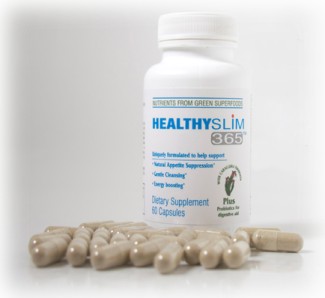 Healthy Slim 365 Product Information
Healthy Slim 365 is a potent multi-component supplement composed of 6 primary ingredients designed to not only help you lose weight and but also to keep you at your peak health. Read on to see how each of these components helps you to lose weight and benefit your health.

Component 1: Caralluma Fimbriata is a natural appetite suppressant and fat metabolizer derived from a succulent cactus that grows in India. It not only suppresses appetite and prevents hunger but also increases metabolic activity. This increase causes fat cells to break down and shrink in size. The The Caralluma present in Healthy Slim 365 is called

This is a high grade patented version of Carraluma Fimbriata that provides the purest, most effective extract available on the market.

A 2007 medical study concluded that people taking Caralluma extract experienced suppressed appetites and reduced waist circumferences compared to those taking a placebo.


An FDA report states: During its entire history of use, over centuries, on the Indian subcontinent, not a single adverse event has been reported on Caralluma Fimbriata. ... The tribal community treats Caralluma Fimbriata as a food item for daily consumption. They believe that Caralluma is a unique herb which cures common health problems apart from its fantastic ability to suppress appetite and thirst.
http://www.fda.gov/OHRMS/DOCKETS/dockets/95s0316/95s-0316-rpt0252-08-Exhibit-02-vol184.pdf

But don't worry about traveling to India to benefit from this amazing supplement.

Component 2: Green Tea Extract also increases your metabolism and burns fat. In addition, this extract has the ability to boost your energy, eliminating the fatigue that sometimes arises as your body gets used to a lower calorie diet.

Component 3: Lactobacillus Acidophilus is a probiotic – a beneficial bacterium – that balances your digestive tract to keep the digestive system in its most natural state for effective fat burning. You see, problems with your digestive system can significantly contribute to weight gain, especially in the midsection. By combining this probiotic with an appetite suppressant, this formulation ensures your digestive processes benefit – rather than detracts from – your weight loss.

Component 4: A proprietary Detox formulation cleanses the liver, stomach, colon, and digestive tract to head off malabsorption and the buildup of poorly digested foods that can stick around, clogging the intestinal tract and hugely contributing to weight gain. This formulation includes:
Dandelion Root Powder to cleanse the blood and liver and increase bile production and improve stomach function.
Burdock Root Powder to act as an antioxidant and aid in the elimination of toxins. Burdock stimulates the digestive system, purifies the blood, and restores liver and gallbladder function.
Red Clover Powder to suppress the appetite and purify the blood
Slippery Elm Bark Powder to soothe the mucous membranes of the bowel and facilitate a healthier colon.

Component 5: A Green Superfood medley provides minerals, digestive aids, and ingredients that are missing from all processed foods. Until now it was tough to get these nutrients unless you grew your own vegetables. The medley includes:
Organic Alfalfa Grass Powder to provide nutrition. Alfalfa is one of the most mineral-rich foods known and contains high amounts of the beneficial nutrient chlorophyll.
Spirulina Powder to provide microalgae and nutrients no other grain, herb, or plant can. These include gamma linoleic acid (GLA), linoleic and arachidonic acids, vitamin B12 (especially needed by vegetarians for healthy red blood cells), Broccoli Stalk Powder to provide chlorophyll and other nutrients

Component 6: Chamomile Flower Powder aids digestion and relieves stress and anxiety.

Additional Ingredients:
A blend of vitamins: Vitamin B-3 as Niacin Powder,
Vitamin B-6 as pyridoxine HCL, and
Vitamin B-12 as cyanocobalamin.

Each of these contributes to healthy digestion and is necessary for the optimum absorption of fats and protein.

"The statements made in this promotion have not been evaluated by the Food & Drug Administration. (The FDA only evaluates foods and drugs, not supplements like these products.) This product is not intended to diagnose, prevent, treat, or cure any disease. As individuals differ, so will their results."